FELICITACIONES a los estudiantes, maestros y personal de Lingleville ISD!!Todo el arduo trabajo y la dedicación han valido la pena al obtener una "Calificación A" de la Agencia de Educación de Texas para el año escolar 2021-2022! Apreciamos mucho todo el apoyo que recibimos de nuestras familias y comunidad mientras continuamos cultivando una cultura de excelencia. Estamos más que orgullosos de esta marca que emos logrado.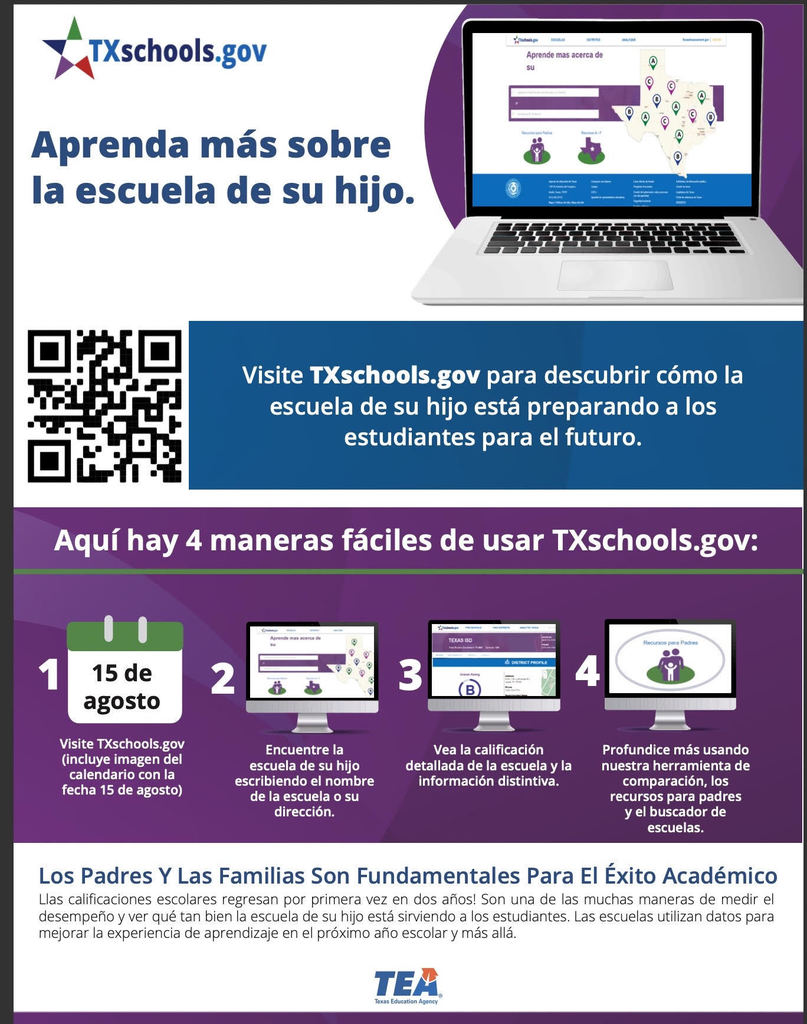 CONGRATULATIONS to the students, teachers and staff of Lingleville ISD!!! All of the hard work and dedication have paid off earning an "A Rating" from the Texas Education Agency for the 2021-2022 school year!! We greatly appreciate all the support we receive from our families and community as we continue to cultivate a culture of excellence. We are beyond proud of this marked accomplishment!! The attached flyer has information on how to access the school rating system website for more detailed information. It is another wonderful day to be a Lingleville Cardinal!!!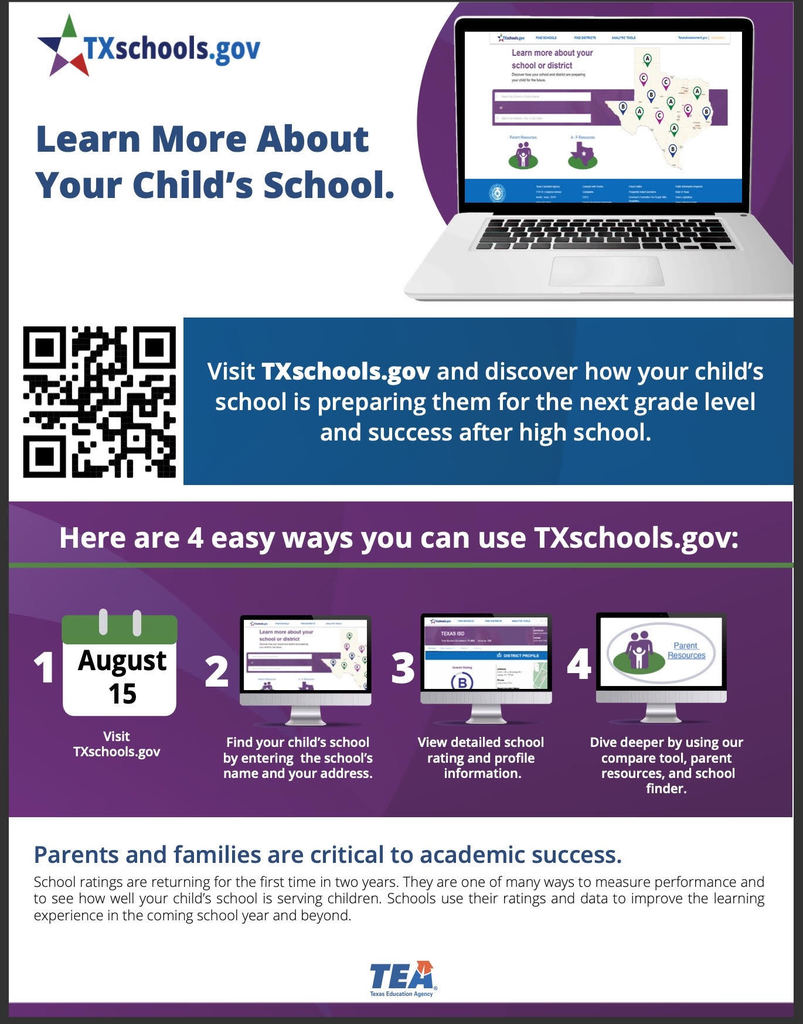 We will be having Substitute Teacher Training August 19, 2022 @ 8:30-11:00. This will be located in the Cafeteria.


If you have already sent a copy of your student's updated shot record—thank you. If not, the deadline is August 11. To parents of incoming kindergarteners: All kindergarten students are required to have immunizations after turning four years old. Most received these vaccines in Pre-K; thank you. For those who have not, you need to bring an updated shot record to the main office by August 11.
Lingleville ISD will be auctioning surplus items in the coming months. The first two items up for auction are 2 portable buildings. This auction begins today and will run for 7 days. Please check out our online auction if you are interested at:
https://www.govdeals.com/LinglevilleISD
Thank you, DeeCee McDougal Superintendent Lingleville ISD
Dear Lingleville Cardinal Athletes, I hope you have all had a wonderful and safe summer break, even in the extreme temperatures. We have added two new highly qualified coaches to our staff and we as a coaching staff are extremely excited about getting back into sports for the 22-23 school year. I need to pass on some information to you about starting dates for practices among other information. PHYSICALS- All incoming 7th, 9th and 11th graders will need to have an updated physical exam if they have not done so. Physicals are good for two years, so if it has been longer than two years or you are new to athletics you need to get it updated. Meet the Cardinals 2022-2023: Sunday, July 31, 2022  Meet and Greet 6:30 pm  Meal 7:00 pm  Coaches Presentation 7:30 pm  Completion of Agreements  Games  Announcement of Lady Cardinals and Cardinals for 2022-2023 Join us to kick off the 2022-2023 Lingleville Athletic Booster Club will provide hamburgers and hotdogs. We ask that everyone bring a side dish or dessert. Please RSVP at
https://forms.gle/Tdkfctast7rfkFK66
STARTING DATES: Football ---- Volleyball------Cross Country Monday August 1st is the first practice for all three fall sports. Volleyball and Football Practices will run from approximately 8 am to 11 am, Monday through Fridays. Athletes are expected to arrive before 7:40 am at the HS gymnasium. High school athletes only for Football and Volleyball. Cross Country practices will run from 8am to 9:30 am, Monday through Fridays until school begins. Junior High and High School athletes are expected for Cross Country. I ask that if possible, please try to make it to one of the last remaining Summer workout dates, so that you may begin getting your body acclimated to the heat and conditioning. This will also give us a chance to get your equipment and locker ready to go before practice begins. The last week of workouts are scheduled for July 24th - July 28th from 8-11am. It looks like it will be a hot one when practices begin, so make sure you are hydrating now before practices start. Schedules are available and will be published soon. Sincerely, Steven T. Bailey and Lingleville Coaching Staff
Child Nutrition for 22-23 SY Media Release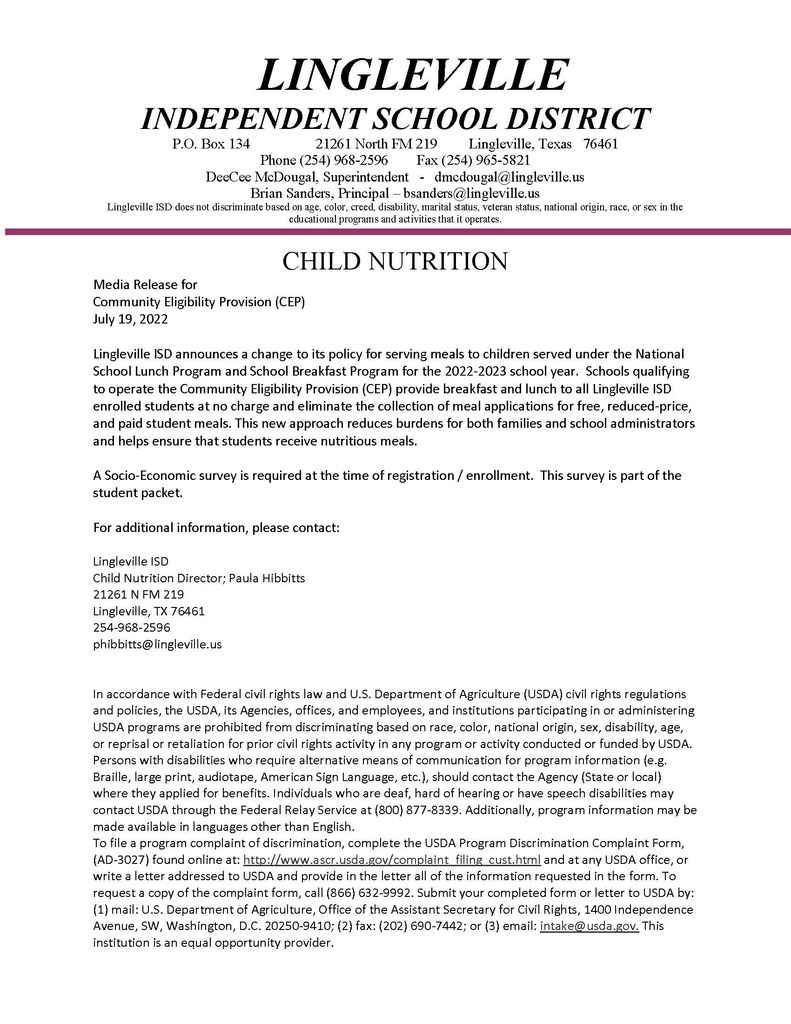 June 9th from 10-2 @ High School: Physicals for all incoming 6th, 7th, 9th and 11th graders that are participating in athletics.

HS, JH, Academic / Athletic Awards Ceremony @ 6:30pm in the HS Gym.

Early Release Tuesday 5-24-22 and Wednesday 5-25-22 @ 2:30. Early Release Thursday 5-26-22 @ 1:00 Awards Ceremony Tuesday 5-24-22 @ 6:30 KG and Senior Walk Wednesday 5-25-22 @ 11:20 KG Graduation Wednesday 5-25-22 @ 11:45 Elem and Intermediate Awards Wednesday 5-25-22 @ 1:00 Graduation Friday 5-27-22 @ 7:00

Parents need to pick up their child's medication from the nurse. Questions--call nurse.

All volunteers will meet at 8:15 in the cafeteria.

For field day tomorrow 5/20/22. Only volunteers that have gone through training can be at field day.
Site Based Decision Making Committee Being Formed Site-based decision making is a process for decentralizing decision making to improve the educational outcomes through a collaborative effort by which principals, teachers, campus staff, parents, and community representatives work as a team. We are updating our committee and seeking out volunteers. If you are interested in serving in this role, please email me
dmcdougal@lingleville.us
no later than this Thursday by 5:00 pm. This committee will be active starting May 23, 2022- June 1, 2023. From the collected nominations, the voted upon teachers and staff will vote to select one parent, one community member and one business representative. Please include in the email your name and which of the 3 areas you qualify (one or more). Thank you, DeeCee McDougal

***Correction*** End of School Year Information Prom ​May 14th @ 7:30-11:00 ​Field Day ​May 20th JH. High & HS Awards Ceremony ​May 24th @ 6:30 KG Graduation ​May 25th @ 11:45 ​Elementary & Intermediate Awards ​May 25th @ 1:00​ HS Graduation ​May 27th @ 7:00

*TIME CORRECTION* The Field Day volunteer meeting will be held on Thursday, May 12 at 4:05 pm, in the cafeteria. Can't wait to see you there!

A Field Day volunteer meeting will be held on Thursday, May 12 at 3:50 pm, in the cafeteria. Can't wait to see you there!
The 6th 6 weeks IPR's have been posted to the parent portal.