Release time is 3:45 today. Thanksgiving Holiday, November 21st - 25th. Classes will resume on Monday, November 28th. Tiempo de salida regular. Del 21 al 25 de noviembre, dias festivals por el dia de Acción de dar Gracias. Clases resumen el lunes 28 de noviembre.
For Thursday, November 10th, the elementary will have the following lunch times: PK – 10:30 – 11:00 K – 10:40 – 11:10 1 – 10:50 – 11:20 2 – 11:00 – 11:30 3 – 11:10 – 11:40 4 – 11:20 – 11:50 5 – 11:30 – 12:00 Grades 6-12 eat at their regular times: 6 – 8 – 12:05 9 – 12 – 12:13

El viernes, 11 de octubre salemos a las 11:30. Por razon de que el equipo de voleibol viajará a Midlothian a jugar en el torneo regional.
First, I want to congratulate our LADY CARDINAL VOLLEYBALL TEAM on their Regional Quarter Final win last night in Brownwood against Rochelle!!! They are on to Midlothian this Friday to play in the Regional Semifinal game at 3:00 pm. In order for all staff and students to have the opportunity to attend the game, we will be releasing at 11:30. Students will be provided sack lunches before they leave to ensure all nutritional needs are met. We appreciate the incredible support from parents and community as this amazing group of ladies continues to impress us all and exemplify our efforts to cultivate a culture of excellence. I hope to see you all at the game!!! Go Lady Cardinals!!! #bettertogether
Today our Lady Cardinal Volleyball team will be traveling to Brownwood to face Rochelle in the Regional Quarterfinals at 6:30 pm. We are so proud of this amazing team!!! Our community send off will be in the high school parking lot at 4:10 today. Please come join us and celebrate this incredible accomplishment as well as cheer them on to their next victory!!!

Pep Rally tomorrow 11/4/22 at 2:30 in the gym and the theme is safari.
I know that many of you have been asking about information for our volleyball playoff game. We will be matched up with the Richland Springs Lady Coyotes tomorrow night in Zephyr beginning at 6:30. We appreciate all of your patience and support throughout this season and we hope to see you all there tomorrow night! Go Lady Cardinals!!!


Pep Rally @ 2:30 10/21/22 in the HS Gym Theme: Pink Out

Tuesday 10/18 we will be having bean and cheese burritos and Friday 10/21 we are having hamburgers.


I just wanted to clarify, the Mullin volleyball game that was originally scheduled for tomorrow (10/15) was cancelled due to them having too many players out for an FFA event. The girls will not have a game tomorrow. I apologize for any confusion.

Lunch menu change for today. We will be serving Chicken Burgers today instead of Hamburgers

No School Monday October 10, 2022. Columbus Day No Escuela, el lunes 10 de octubre. Columbus Day
Please excuse the last message. The wrong attachment was provided. October 6, 2022 Please see the attached release from Sheriff Matt Coates. I was extremely impressed with both the rapid response from all entities and the diligent efforts to ensure the safety of everyone involved. This incident occurred after school hours today. Thank you to everyone who responded and helped in this situation. We are safe to return to school as normal tomorrow. Lingleville ISD is blessed to be surrounded by an incredible community full of people ready and willing to serve. #bettertogether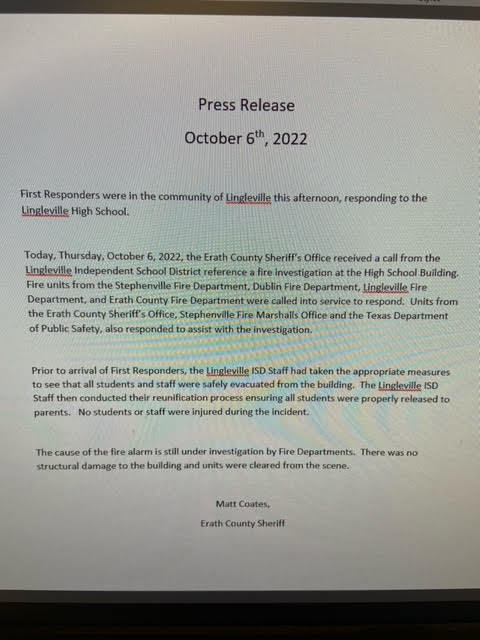 Thursday 9/29/22 lunch menu has changed. We are going to have steak fingers instead of turkey and cheese crescents. Every thing else will stay the same.