The junior high football game set for tonight is cancelled. We apologize for the late notice. The school we were set to play just notified our coaches. Thank you,

LISD Volunteer Training - Monday, September 27 @ 6:30 pm in the LISD Cafeteria

Lingleville ISD will be having its first Pep Rally of the year on Friday, September 17th at 2:30pm in the High School Gym. Please come and support these athletes.

Progress reports have been posted to the parent portal.
No vamos a tener clases el jueves, 2 de septiembre y el viernes 3 de septiembre.

Lingleville ISD will be closed until Tuesday September 7, 2021. This is due to a high number of staff and students unable to attend due to COVID related issues. There will be no practices, games or open gym until September 7, 2021. The school will be cleaned, disinfected and ready for students on Tuesday.
We can't wait for Monday morning to get here!!! I have included the drop off and pick up map. Please note we will begin unloading students no earlier that 7:30 am. Please pull through and wait your turn to unload. Staff and teachers will assist your student(s) in unloading and carrying their supplies. We will all be ready to help guide them safely to their appropriate locations and begin with good routines and habits from day 1. Please do not exit your vehicle or delay the line. Students may only be dropped off at the appropriate locations. For the safety of your child as well as proper school operations, do not park or try entry at any other location. If you have questions or need assistance please call the front office at 254-968-2596. This is going to be an amazing school year!!! Thank you!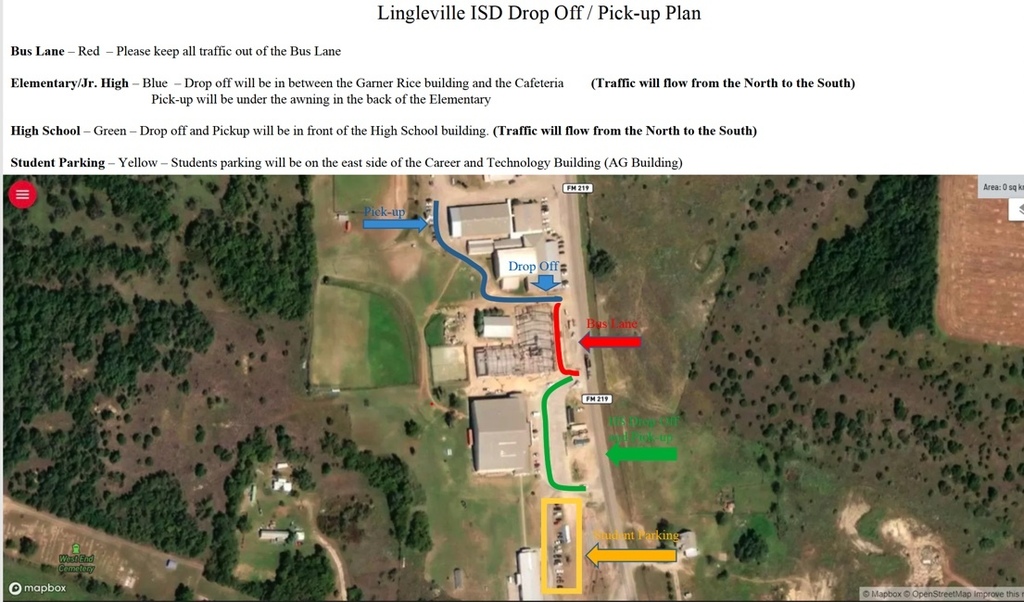 Reminder that tonight is Meet the Teacher. Please join us in the High School Gym at 6:00 pm. We have a brief presentation and introduction of teachers then parents and students may visit classrooms. Our PK-5 students are welcome to bring their school supplies and leave them in their classrooms. We look forward to seeing you all this evening!!!!

Parents of incoming seventh graders: Immunizations are due; turn in shot record to central office if you have not already done so. Thank you. Jeanie Faught, R.N School Nurse
Meet the Teacher Night When: Thursday, August 19, 2021 from 6:00 pm to 7:30 pm Where: New Gym **All parents, guardians and students will assemble in the new gym at 6:00 pm for a brief informational meeting. They will then be released to the classrooms to meet their teacher.
The school dress code is being posted to the front page of the web page for easy reference. Please review this with your student(s) and help us maintain compliance throughout the school year. We truly value your support as parents! We are eager to get started back on August 23rd.
LISD Back Pack Guidelines Lingleville ISD will allow backpacks for the 2021-2022 school year for all grade levels. There will not be any restrictions of the type or material of the backpack. All backpacks must be in compliance with the school dress code and have school appropriate designs or logos. Students will be responsible for the accountability of their backpack. For the purposes of this document, backpack is interchangeable with computer bag, briefcase, or satchel. Pre-K through 5th Grade:  1. Students will follow all classroom guidelines in regards to their backpacks. 2. Students will use the designated school lockers to store their backpacks. 3. Students will not take their backpacks to the cafeteria unless needed for a medical reason or at the teacher's discretion. 4. Students will not take their backpacks into the restrooms. 6th through 12th grade:  1. Students will maintain possession of their backpacks through the entire day.  2. Students may leave their backpacks in a classroom, if approved by the classroom teacher.  3. Students will not take their backpacks into the school restrooms.  4. Students will not leave their backpacks in the hallways, gyms, or cafeteria.

This is a reminder to please register your students online for the coming 2021-2022 school year. All students need to be registered no later than July 28, 2021. Thank you for your prompt attention to this matter. (see link below) Este es un recordatorio para que registre a sus estudiantes en linea para el próximo año escolar 2021-2022. Todos los estudiantes deben registrarse a más tardar el 28 de julio de 2021. Gracias por su atencion a este asunto.
https://ascender-prtl08.esc11.net/ParentPortal/login?distid=072909
Thank you!
All incoming athletes who want to participate in athletics in grades 7, 9, and 11 will need to have physicals prior to participation. Forms will be available in the office starting on Monday, July 19th.

Please complete the form at the following link to provide needed information to our district as we plan for our ESSER III grant allotment. Your input is valued and appreciated as we work toward continued quality education for our district.
https://forms.gle/Xf3iZKpvFFnyRMhS6
If you are unable to complete the form online, paper copies are available at the main office. Thank you for your time.

June School Board meeting will be moved to June 17, 2021.

Summer Work out schedules June: 7th- 11th: Workout and Open Gym 9am-Noon. 14th- 18th: GYM AND WEIGHTROOM CLOSED ( Gym Floors and Foyer floor being reconditioned) 21st- 25th: Workout and Open Gym 9 am – Noon. 28th- July 2nd- Workout and Open Gym 9 am – Noon. July: 5th (Closed) Tuesday the 6th – 9th: Workout and Open Gym 9 am – Noon. 12th- 16th: Workout and Open Gym 9 am – Noon. 19th-23rd- GYM AND WEIGHTROOM CLOSED. (coaches will be in San Antonio for coaching school) 26th-30th- Workout and Open Gym 9 am – Noon.
Elementary awards which are today at 12:00 noon have been moved to the new gym. Those attending may go straight to the High School building to attend. Thank you!